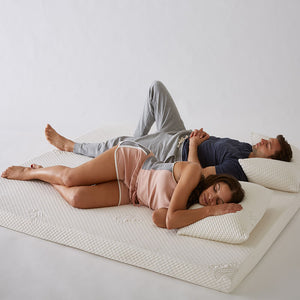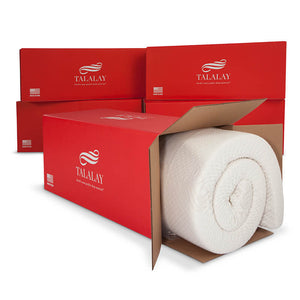 Dual Sided Talalay Topper
3″ Dual-Sided Talalay Mattress Topper: One half plush, one half firm, covered with an ultra-soft bamboo cover.
Add another layer of luxury to your bed, even if you and your sleep partner disagree on firmness! One half of our Dual-Sided Talalay Topper has the same plush feel as our regular topper. The other is firm.
It's an easy and economical way to revitalize your bed or to solve mattress disagreements without having to buy a new mattress!
BUOYANT SUPPORT
Pressure-relieving Talalay material provides the ideal support for proper spinal alignment, which is essential to a restful sleep experience.
BREATHABLE COMFORT
Thanks to our exclusive TalaFlex™ open-cell technology, air circulation is maximized to maintain the ideal sleep surface for your comfort.
NATURAL HEALTH
Our American Talalay has been certified "baby safe" by Oeko-Tex, the global standards organization for textile health and safety. That's the most stringent certification available.
HANDCRAFTED IN THE USA
Every mattress topper is proudly handmade in Connecticut of our finest Talalay material.